Yo, Pengyou!
Updated: 2011-12-18 06:47                                                              By Mike Peters (China Daily)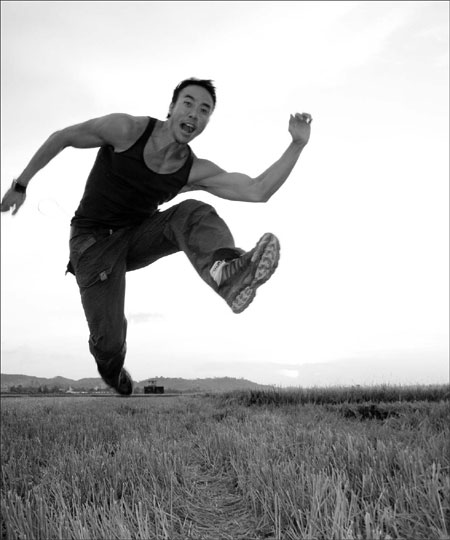 Provided to China Daily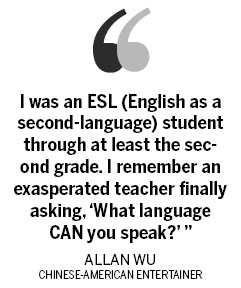 Entertainer Allan Wu, host of this weekend's BooeyLehoo concert, wasn't always a likely ambassador ofcross-cultural experiences, Mike Peters discovers.
As a Chinese-American kid in San Marino, California,Allan Wu had no vision of himself as a bridge betweenhis family's ancestral culture and its new one. "Myparents were first-generation immigrants from Shenyangin Northeast China," he says. "But I was born in Americaand I wanted to be an American – 'to be like everybodyelse'." Today the community where he grew up is about30 percent Asian, "but back then there were just ahandful." So young Wu struggled to learn English since itwasn't the language of his own house, and he resistedhis parents' urging to learn Chinese because that wasn'this vision of himself.
"I was an ESL (English as a second-language) studentthrough at least the second grade," he says. "Iremember an exasperated teacher finally asking, 'What language CAN you speak?'"
Flash forward to the past week, when the host of TV's Amazing Race: China Rush bounced into Beijing full of snappy banter that flowed freely between English and Mandarin.
Last weekend, one-time VJ Wu was exhorting a crowd of American expats at the Temple Theater to chant "You pengzi yuanfang lai, buyi lehu (We are happy when friends visit from afar)". That traditional Chinese saying was morphed into "Booey Lehoo", the name of last night's concert – emceed by Wu – that featured a slew of US and Chinese show-biz folk who support US President Barack Obama's 100,000 Strong Initiative.
That campaign is designed to boost the number of Americans studying in China from 13,000 to 100,000 in just four years.
Wu himself first came to China not as a student but an actor wanna-be.
He had been working as a model with the Ford agency in LA, with some VJ gigs on the side. "I liked representing the Asian community in the States," he says, but he grew tired of being "taken" in a fashion shoot with eight Anglo-Americans, three Latinos, two blacks and himself.
"I wanted to be an actor, and I wanted to work in an environment where I was part of the majority," he says.
So he snagged a $100 flight to Asia as a documents courier, and auditioned to be a VJ for MTV in Taipei. "I had to introduce a Smashing Pumpkins video" and got the job despite one small problem. "Your Mandarin is absolutely atrocious," Wu recalls being told.
"But we see something in you."
That "something" could have been his gift for gab, or the raw zest for life that makes images of the muscle-shirted actor leap from his web page.
Resisting one last tug from his life in LA, "I had just gotten my personal trainer certification so I didn't have to do the "waiter in between acting gigs thing". Wu took the plunge.
"It was REALLY hot and humid, and my mother asked me, 'Why do you want to come here, after we sacrificed so much to come to the US and give you the opportunities there?"
"It was so, so ironic," he says, laughing at the memory of himself as a child, so determined to be American, not Asian. "But she was very supportive when she realized how serious I was" about the opportunities on this side of the Pacific.
He felt very alone at first, but buckled down to study Mandarin and savored the "cool" job at MTV, where his main responsibility was interviewing foreign artists like Julio Iglesias and Mariah Carey as they came through Taipei. When his one-year contract was up, however, he was off to Hong Kong looking for movie roles.
"That was back to the starving actor life again," he says. "I just didn't mesh with the place as quickly as I did in Taiwan, and while I was still trying to learn Mandarin, suddenly Cantonese was a whole new challenge."
He planned to move on to Shanghai within a year, but fate intervened.
Wu had some part-time work in Singapore – he hosted the CommunicAsia show for a Japanese telecom giant, among other gigs. "On one trip I was checking out some agencies – there are great photographers out there, etc. – when one agency rep said to me, 'When I look at you, I see dollar signs!'"
That was flattering, Wu says with a monster grin, "but I told her that I'd done the modeling thing and what I really wanted was to act." So she introduced him to a talent manager in Singapore, and suddenly he had a contract to make Chinese TV dramas.
His new employers were "keen on new faces", he says, and he found himself playing the lead in what turned into a blockbuster Chinese drama even though he still couldn't speak Mandarin very well.
"Those were some really dark days, messing up my lines all the time," he recalls. But he relished the challenge. "That's an intense way to learn language, being in somebody's face all the time and having to say the lines," he says. The producers eventually decided to dub him, which was commonly done anyway, but Wu was disappointed not to be using his own voice. He won that chance back, "but not until about my third drama there."
It was a great job, Wu says, but when he learned that the producers of TV's The Amazing Race were auditioning potential hosts for an Asian version of the show, he was itching for the job.
"There were a lot of people gunning for that – hit show, fun concept, lots of travel," he says. "I had been a contestant on Fear Factor, so I was a big reality-show junkie." The candidates were narrowed down to three, and Wu says he got picked both for his on-camera skills and because once, during a sudden thunderstorm, he delighted a producer by roaring onto the set on his motorcycle, dripping wet.
After a few seasons, he was approached by another company about doing a Amazing Race show for China, and once that group secured the rights to do the show officially, Wu was once again ready to pack for Shanghai.
In the meantime, he had spent 10 years in Singapore, married actress Wong Li-lin and become half of a celebrity couple. He also became the father of two children.
At home, he often found himself talking like his parents. "It was that cross-culture irony again," he says. "The whole time in Singapore, I'm saying to the kids that 'You gotta speak more Chinese!'"
After agreeing to host Amazing Race: China Rush, Wu jokes that he laid down an ultimatum: "You don't want to learn Chinese, I'll bring China to you!" And a few months ago, after the show's second season, the family was settling in Shanghai.
"We'll be looking for candidates, contestants for season three soon," he says. Meanwhile, he's bouncing from one Beijing stage to another, supporting the push to bring more American students to China. An "arts week" of events climaxed last night as he hosted the Booey Lehoo concert with Will.i.am, Shunza, John Legend, Sa Dingding and Coco Lee.
"What I love about the 100,000 Strong Initiative is that it's not just aiming for gifted kids," he says. Most stereotypes are not rooted in hostility but in a lack of interaction, he adds, and exposing young people from all parts of society to China's culture is a big step forward.
You can contact the writer at michaelpeters@chinadaily.com.cn.
(China Daily 12/18/2011 page4)